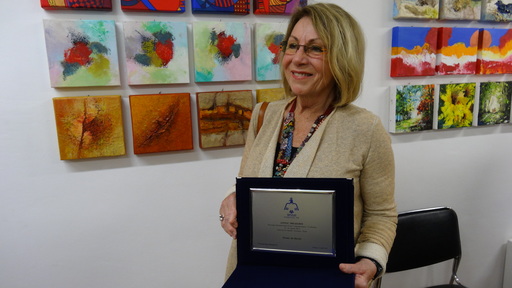 I was invited by Paola Trevisan to participate at this important exhibition in Bologna,Italy
During the Vernissage of the TIA "Little Treasures" exhibition in Bologna,Italy on the 12th of april 2014 I received the Award :Premio de Marchi.
Introduction:
Working at home and traveling throughout the world I was inspired by other cultures,environments and landscapes which I translated in portraits and in colourful, figurative paintings. Gradually there has been a shift in my work from the figurative to the abstract as I can express more of myself in the adventure of what is developing by applying several coates of acryl paint and other materials. Experimenting with all kinds of materials or stuff that I gather is my biggest joy. I paint and apply, scrub, destroy and build again. Little by little a skin arises.
Nowadays the world around me is my biggest inspiration. Motives from nature, but also weathered walls, rusted iron, erosion...the imperfect attracs me. Whether I am travelling or just walking in the streets around the corner I get fascinated by the view as well as by the smallest details just in front of my feet. Especially the natural deterioration fascinates me. Their shifting structure, colour and shape have a beauty that is beyond words. My work is all about the cycle of growth, flow, movement and decay.
.